Wednesdays of Lent

Please join us. Sign up sheet for soups available in the church narthex.
Ash Wednesday – March 6 – Worship at 6:30pm
Soup supper (5:30pm) & worship (6:30pm)
on March 13, 20, 27, April 3, and 10
Christmas Worship 2018

Join us this Christmas to celebrate the birth of our Savior!
Christmas Eve 10:00 pm

Christmas Day 10:00 am
Feed the Future Backpack Program
Wheat Ridge 'Feed the Future' Backpack Program
Various non-profit agencies and individuals have come together to provide an on-going fund which supports the collection and dissemination of food items, each weekend, to students in eight Title I (free/reduced lunch eligible) elementary schools. The program is meant to provide children who are on the School Free and Reduced Lunch program some extra meals to see them through the week-end when they otherwise would go hungry. The program provides two breakfast and two lunch items, two snacks, fruit and vegetables.
Volunteers from our church tries to help the bagging of the items at Stevens Elementary School on Thursday mornings. First bagging for the 2018-2019 school year starts on September 6. Please check in at the office by 8:20 am and you should be done by 9 am. We don't have a set day to help each month but show up any Thursdays during the school year. Also if you want to help in another way, the annual Feed the Future 5K will take place on Sat Sept 8 and benefits Wheat Ridge Feed the Future at all the schools they serve (Kullerstrand, Pennington, Stevens) in Wheat Ridge. More information at Community Table Website >>
The Dog Days of August!
Congregational social event – 2 Wednesdays on August is designed to get everyone together for a light supper and for a presentation by a dog-based service organizations in our community so we can learn about what they do.
Come meet other members, non-members that attend our church! Get to know them for this fun event.
Dates: Wednesdays, August 8 & August 15
Time: Light Supper at 5:30pm, Presentation for Adults and teens at 6:30pm -7pm, Children's activities at 6:30pm – 7pm, Children brought in to meet the dogs at 7pm
Location: Church Fellowship Hall
---
Presentation on August 8
Colorado's Lutheran Church Charities K-9 Comfort Dog Ministry – A Bridge For Compassionate Ministry
Launched in August 2008, the Lutheran Church Charities K-9 Comfort Dog Ministry is a national human-care ministry embracing the unique, calming nature and skills of purebred Golden Retrievers. THE LCC K-9 Comfort Dogs are a bridge for compassionate ministry, opening doors for conversation about faith and creating opportunities to share Mercy, Compassion, Presence, and Proclamation of Jesus Christ.
Cubby has been deployed nationally, along with other LCC K-9 Comfort Dogs from throughout the United States to Orlando, FL; Las Vegas, NV; Parkland, FL, and Santa Fe, TX, in times of crisis to bring comfort and hope to those hurting and in need.
Wednesday, August 8th, come hear Top Dog, Bonnie Fear, a handler for the LCC K-9 Comfort Dog Program. Ans YES, see Cubby!
---
Presentation on August 15
Brian Eberle, Co-Founder and Vice President of Bloodhound Man-Trackers with Meav and Lucy
Brian's public service career began in 2003 as a volunteer firefighter. He began working with his first bloodhound in 2008. He and co-founder Frank Hurst formalized Bloodhound Man-trackers with a vision to provide a valuable asset to ALL law enforcement agencies for tracking, Human Decomposition work, and to help find the lost & missing.
Brian has assisted over a dozen law enforcement agencies on dozens of cases and has numerous training hours in Bloodhound trailing and human decomposition work. He is proud to be a member of NecroSearch International, a resource for the National Center for Missing and Exploited Children and a Canine Search Specialist for FEMA's Colorado Task Force 1 Search and rescue Team.
Wednesday, August 15th, come hear Brian Everle and his Bloodhound in a presentation about the Bloodhound program and how it helps all law enforcement agencies!
Book Club – May 6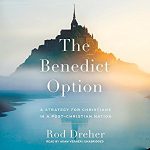 Next Book Club meeting is on Sunday May 6 at 3 pm. Our next read is The Benedict Option by Rod Dreher
Please join us for discussions.
Spring Conference Saturday, April 7, 2018

Confessing Christ in a Hostile World: Lessons from the Early Church
Join us here at Wheat Ridge Lutheran on Saturday, April 7th for this year's Spring Conference "Confessing Christ in a Hostile World: Lessons from the Early Church." Dr. James Bushur from Concordia Theological Seminary in Fort Wayne, Indiana, will be presenting on the Early Church martyrs who died to testify to Christ in a pagan world. As the Church in America prepares to engage with an ever more hostile culture, there are many lessons we can learn from the Saints who have gone before us. Feel free to invite any friends or relatives you think might enjoy learning about the theology and history of martyrdom in the Early Church. There is no charge, just come ready to learn. Opening service will begin at 9:00AM, and we will wrap everything up around 3:30PM. Lunch will be provided. Please register today for the conference online using the form below.
Spring Conference Registration Form
Easter at Wheat Ridge

Please join us in celebrating the resurrection of Christ on Easter Sunday, April 1.
Sonrise Worship at 7am
Easter Breakfast at 8:00am
Easter Egg Hunt at 9am
Easter Celebration Worship with Communion at 10am
Daylight Saving Time – Spring Forward on March 11!!
Daylight Savings time will start on Sunday, March 11. Be sure to set your clock forward before you go to bed on Saturday!!
Join our Book Club
Our first book club meeting was held in February and we read and discussed "Bioethics: A Primer for Christians" by Gilbert Meilaender. Good group of people got together and had good discussions. We will meet again on Sunday, March 25 at 3pm at church. Our next book for discussion is "Out of the Ashes" by Anthony Esolen
Please join us!
Learn Hebrew
Now that we have several students who are becoming proficient in Greek, we will now jump into HEBREW!
We will hold Hebrew class on Sunday afternoons at 2:00 pm, as well as Tuesdays at 11:00 a.m. If this is something you would like to learn, please join us.