Adult Bible Studies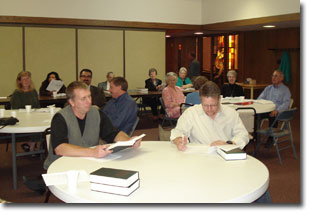 Opportunities for spiritual growth are offered each week through group Bible study. The classes provide a combination of learning styles including study, group discussion and lecture.
These groups study a specific book of the Bible, Biblical topics, doctrinal studies and practical classes related to the Christian life.
Sunday Mornings
8:45 am in Luther Hall
Led by Pastor Lietzau
Tuesday Morning Bible Study
10:00 am in Luther Hal
Led by Pastor Lietzau
Tuesday Evening Greek Class
6:30 pm in Luther Hall
---
Sunday Morning Youth Study
8:45 am in the Library
Having been Confirmed and gone out into the world, the
teens need a review of where they are in relation to
Lutheran Doctrine. They will follow this in depth study
which provides a thorough review of both the small and
large catechisms. Drawn from God's Word, the Lutheran
Confessions are a true and binding exposition of Holy
Scripture.
Lutheran High School Link: